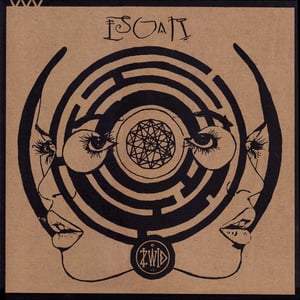 $

15.99
This 10-song EP by ESGAR comes on heavy 12" vinyl & housed in a hand-screenprinted chipboard jacket. Hailing from Oxnard, California, Esgar's body dropping bass and meditative, hypnotic dub and electronica vibes see's his self-titled debut EP launch Kutmah's IZWID imprint as an assured and experimental mission statement. Limited edition of 300.
Side O
------
Let's Go (2:05)
Gimme (2:11)
Ox Street (1:42)
Blaster (2:03)
Steelr (2:50)
Side X
------
Starscream (2:49)
Splash (1:30)
Alarma (2:04)
Measures (1:30)
Shockwave (2:06)
Executive Producer: Kutmah
All songs recorded in Oxnard, CA.
Published by Esgar Sounds (BMI)
Mastered by Jeremy Balliger. CA
Produced by Esgar
Art & Logo by Kutmah
Layout by Brandy Flower
10-track, 33rpm EP master / Metropolis, London.
140gm 12" black vinyl / Optimal, Germany.
Handprinted chipboard jacket by HIT+RUN, Los Angeles.
© & (P) 2013 IZWID RECORDS
WWW.IZWID.COM | WWW.KUTMAH.COM | WWW.THEHITANDRUN.COM
IZWID001
***********************************************************
***********************************************************
***********************************************************
EUROPEAN RESIDENTS PLEASE ORDER FROM IZWID UK SHOP:
http://izwid.bigcartel.com
***********************************************************
***********************************************************
***********************************************************